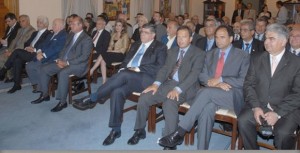 Comprehensive Report of the delegations leader movements at the World Conference in August 2010 in Cyprus on behalf of the Australian Delegation Team.
My dear colleagues and friends,
Our next Federation Conference has been scheduled for the end of May 2011 at Darwin NT. More details on the Conference will be made available as we draw closer to those dates and confirmed.
Instead of waiting until our next conference in May in 2011 at Darwin as organized, I thought it will be right and proper to inform you now, of what happened and what was said and done in Cyprus this year at the Central Council Conference. I would also like to inform you of all the contacts I had in regards of other ongoing various issues.
To start with the 2nd and 3rd Day after my arrival, been weary of newspapers and television reports I tried to contact the President of the Republic in vain. Mr. D. Christofias was pre-occupied with some out most important issues as I was told by staff at the Presidential Palace. At the same time I turn my attention in meeting with POMAK President Mr. Haris Sofoklides who I had exchanged e-mails before I left Australia and in regards of the structure of the Australian Delegation. Copies of the relevant e-mails were forwarded to you before my departure. Apparently people already in Cyprus were complaining on the composition and structure of our delegation team. I managed to speak a few times with him on the mobile and organized a meeting with him at the Foreign Ministry the following Monday to sort things out, as the Hilton team needed urgently final booking and names.
I had asked Mr. C. Procopiou to attend also this meeting as I had organized at the same time another appointment with HE General Ambassador Mr. Antonis Toumazis in regards of quite a few other issues. Mr. H. Sofoklides rang in and apologized as he has fallen sick and could not attend the scheduled meeting. In fact he was sick for a few days and missed quite a bit if not the major part of the conference. He instructed Mr. A. Toumazis to accept any changes that I wished to do and forwards to the Hilton Team the final document, which I had modified accordingly.
The final document was issued with the Australian delegation been the following: C. Kapnoulla, C. Procopiou, C. Charalambous, C. Ioannou, C. Christoforou, P. Mina and finally G. Lazaris who replaced M. Christodoulou.
Together with Mr. Procopiou, we put forward our PASEKA demand for financial assistance of 30.000 euro's, supported by two other letters on behalf of SEKA QLD supporting and explaining the same demand. HE the High Commissioner in Australia Mr. Yiannis Iacovou as previously arranged had already spoken to the General Ambassador about the current situation. Mr. A. Toumazis said he had already put forward our demand at the appropriate Foreign Ministry's office and added he does not foresee any problem with its approval.
During the course of this meeting Mr. C. Stamataris of the Greek Federation who arrived at the time he ironically mentioned a problem they had upon receiving their PIO DVD's posters and leaflets which were all in English instead of Greek, exactly the opposite of what happened to us. Mr. A. Toumazis stated that obviously mistakes do happen. He promised to look in to it for next year and in the case of the Traditional costumes needed urgently by Queensland dancers, he gave instructions to staff to make ready for us, before the end of the conference, something that did eventuate and I passed to Queensland Youth for immediate delivery.
At this point I must thank Mr. A. Toumazis and congratulate Mrs. Julia Miltiadous and all the staff of the department for their full understanding of the various issues their assistance and full co-operation in all matters risen and also in connection with the PIO extra assistance and information given to me. The department is currently undergoing a stock take which is at 75% and at completion; a list of various items books etc will be available to everyone. They have kindly requested that we always communicate our needs etc thru the Canberra High Commission. On behalf of everyone here I would like to again thank the whole team of the Overseas Cypriots service department and their general director Ambassador Mr. Antoni Toumazi for their efforts before, during and after the Conference, which was greatly appreciated.
At this point, I must add that I had continues and open communications with our President Mr. M. Christodoulou from the moment I landed in Cyprus and right thru to the end of the Conference. I also kept an open mind and channel of communications with the rest of my colleagues who may verify these. I had already requested to see Mr. A. Kyprianou before the Conference for advice on a matter of principle. The opportunity was unexpectedly presented to me the day before the Official Opening of the Conference. I straightaway made my way to AKEL's political office and had a quick meeting with AKEL General Secretary Mr. A. Kyprianou who I spoke to extensively and raise our concerns on the current political situation and the Cyprus problem. During our short meeting I explained to him all the aspects of our concerns and informed him of our position and intensions. Mr. A. Kyprianou was clearly very happy with what I was suggesting and so was the President Mr. D. Christofias who rang and spoke to, during my short visit there.
After confirming approval on our planned report and comments Michael and I decided to inform the rest of the delegation which unanimously agreed to table the first part of our report as we were certain the Chairman was going to stop me no matter what, based on the time allowed and the content for such a report. The following report was fully tabled. The first part of the report was not read, but the second part was fully presented by me on behalf of the Australian and New Zealand Federation. The Honourable Chairman did stop me half way thru, but I managed to continue and complete my report, after the delegates popular demand.